31 October, 2017
Shrimp Fried Rice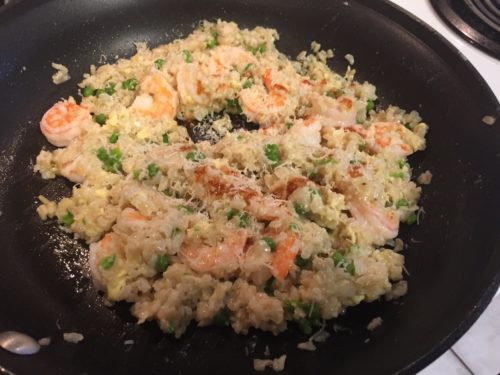 Posted in :
leftovers
,
Main Course
,
seafood
on
by :
poppop
Tags:
chinese food
,
easy dinner recipes
,
easy fried rice
,
fried rice recipes
,
gluten free
,
main course
,
one pan
,
one pot
,
quick and easy
,
seafood
,
shrimp
,
special fried rice
,
weeknight suppers
You shouldn't be intimidated by those cooks in the Chinese take out places! You can make your own Shrimp Fried Rice.  At home. In your skillet.
Serves 2
1 egg beaten
1/2 cup chopped onion
2 cups boiled rice. Whenever you cook up some rice for any use you might want to cook up some extra and keep it in the freezer because it cuts down on the prep time on those quick weeknight meals.
1 cup frozen peas. You can add more veggies if you want little more color and flavors. like diced cooked carrots or some copped chives, etc.
12 med. to  large size shrimp (peeled and deveined)
1 tsp. salt
1/2 tsp. black pepper
Just enough Olive oil to coat pan
soy sauce as much or as little as you choose
a squirt (or more) of some hot chili sauce You might like "Sriracha" (optional).
Put the chopped onions in an medium size skillet (8″ more or less) with a little oil and cook on med. high until just beginning to get brown.
Add everything else but the shrimp and the egg. Toss or flip it constantly until it's hot.
Push the rice etc to the sides of the pan and put the shrimp in the bare spot in the middle. Add a little more oil if needed. Cook the shrimp on one side until pink and turn them over and pink up the other side.
Toss it all together as you drizzle the egg in and when the egg is cooked serve it up!
Maybe with a little more hot sauce or soy sauce but that's up to you.
SaveSave
Originally posted 2015-04-23 18:40:54.