12 November, 2017
Turkey and Gravy for the Holidays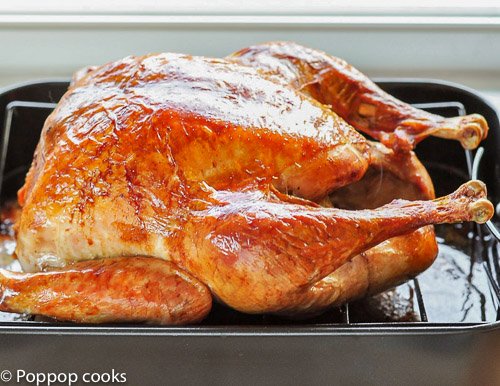 Posted in :
Main Course
on
by :
poppop
Tags:
main course
,
Thanksggivin
,
Turkey
,
Turkey and gravy
This Turkey and Gravy for the Holidays is a follow up to Turkey Dressing Poppop's way just so you will have some gravy to serve with your Turkey and Dressing. Our family and friends really like our Turkey, dressing and gravy done this way.
SaveSave
SaveSave
SaveSave
SaveSave

Thaw the turkey. If we buy a frozen one we leave in the fridge, not the freezer, for a few days. Pre heat the oven to 375°F. Remove the neck and giblets. Rinse it inside and out. Put it in a pan big enough to hold it. Yeah, I really just said that. Cut the lemon into 4 pieces and mash the garlic cloves without removing the skin then put the lemon and garlic inside the bird. Generously sprinkle the turkey with salt and black pepper. Spread the chopped carrots, celery and onions (aka Mirepoix) in the pan all around the turkey. Add the 2 cups of water. Cover it with aluminum foil folding the foil around the edges of the roasting pan. Put it in the oven. At 375°F a 12 to 14 lb. turkey is going to take 3 1/2-4 hours. After 2 1/2 hours remove the foil and continue the roasting. When a meat thermometer inserted into the thickest part of the thigh but not touching the bone reads 165°F it's done! Take it out of the oven and move the turkey to another pan or a casserole dish to let it settle down before carving it.

Now put the pan that you roasted the bird in on a large burner on the stove. Add the chicken broth and heat it up to a fast simmer. Whisk the flour or cornstarch into about a cup of water. Slowly and in small batches whisk the mixture into the gravy. The corn starch will thicken almost immediately so so if you opt for cornstarch (gluten free) be extra careful to thoroughly whisk it into all the gravy between each addition of the mixture. When the gravy is as thick as YOU want it add salt and pepper to taste if necessary and serve in a gravy boat.

Carve the turkey and put it into a casserole dish for serving. If it's too early just put the dish with the turkey in the oven at about 225-°250F with a damp dish towel over it and it will be ready to go when it is serving time.