3 August, 2015
Tomato Sauce with Onion and Butter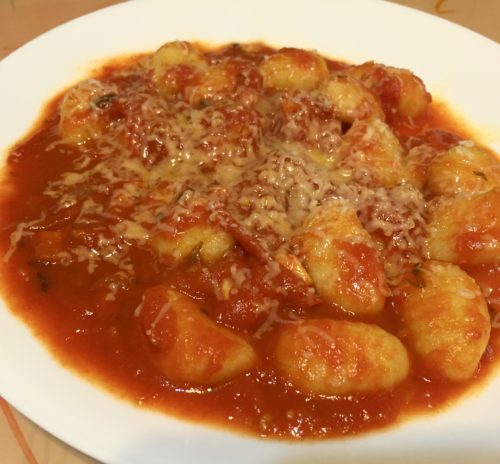 Posted in :
Gluten Free
,
Main Course
,
Quick and Easy
,
sauces
on
by :
poppop
I read about this cookbook on Food52 where they showcased this Tomato Sauce with Onion and Butter. The book is titled Essentials of Classic Italian Cooking. I'm halfway through and it is great!. Click on the link if you want it (I get a little $ thank you from amazon if you buy it). I was even more convinced than I already was as to how straight forward real Italian cooking is. When I read the recipe for this very simple Tomato Sauce with Onion and Butter I couldn't believe it, but, I had to try it. We had it with potato Gnocchi as the author, Marcella Hazan, suggested and it was good,,real,,good!

Print Recipe
Tomato sauce with Onion and Butter
Yum
A simple tomato sauce that is very, very good.
Crush by hand or cut up the tomatoes. Add the tomatoes and their juice to a sauce pan. Add the butter, onion and salt. Cook at a slow but steady simmer for 45 minutes, or until the fat floats free from the tomato. Stir from time to time mashing any large piece of tomato in the pan with the back of a wooden spoon.