7 November, 2017
Stir Fried Chicken Broccoli and Rice – Quick and Easy – Gluten Free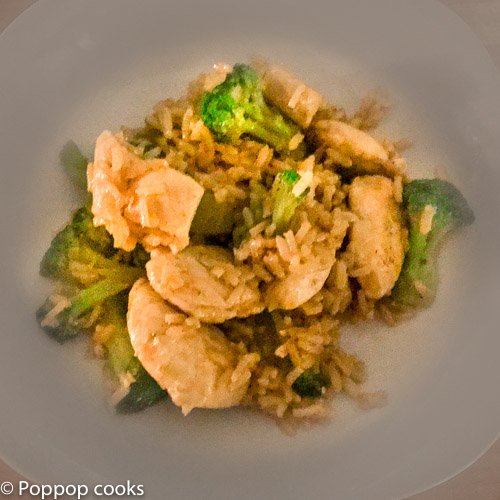 Posted in :
Gluten Free
,
poultry
,
Quick and Easy
,
Rice
on
by :
poppop
Tags:
chicken recipes
,
chinese food
,
easy chicken recipes
,
easy dinner recipes
,
easy fried rice
,
fried rice recipes
,
gluten free
,
main course
,
quick and easy
,
rice recipes
,
weeknight suppers
Stir Fried Chicken Broccoli and Rice……
……besides being real good it's real simple, quick and easy. Perfect for a busy weeknight. Faster and better than the take out or delivered.
I'll bet that you have everything that you need waiting for you in fridge and pantry.
Let's go with our Stir Fried Chicken Broccoli and Rice!!
Put the rice on.
Put a large skillet on at medium high and eyeball a couple of tablespoons of olive oil. While it is heating up cut up the chicken into pieces a little bigger than bite size.
Add the chicken to the skillet and salt and pepper it. Go lighter on the salt than usual because the soy sauce is salty.
If the broccoli is frozen spread it out in a shallow bowl to thaw out little while the chicken is cooking.
Turn the chicken pieces a few times as they cook…..
…..and when they are browned and firm add the broccoli.
Toss a few times as the broccoli warms up and softens a little then add the rice.
Drizzle the egg in as you are stirring it up. Sometimes I get lazy and don't bother with the eggs. We can never tell the difference.
Sprinkle in the soy sauce.
Stir it a few more times and serve it up!!
Even if you have to thaw out the chicken and use regular rice instead of instant. The whole meal will take less than 25 minutes. But, if you have some cooked rice in the freezer or use instant rice and you have some grilled chicken for the future in the freezer you could have it on the table in 15 minutes or less.
SaveSave
SaveSave
SaveSave

Put the rice on. Put a large skillet on at medium high and eyeball a couple of tablespoons of olive oil. While it is heating up cut up the chicken into pieces a little bigger than bite size.  Add the chicken to the skillet and salt and pepper it. Go lighter on the salt than usual because the soy sauce is salty.

Turn the chicken a few times as it cooks and when it is browned a little and firm add the broccoli. Toss a few times as the broccoli warms up and softens a little then add the rice.

Drizzle the egg in as you are stirring it up. Sometimes I get lazy and don't bother with the eggs. We can never tell the difference. Sprinkle  in the soy sauce,