3 June, 2015
Pico de Gallo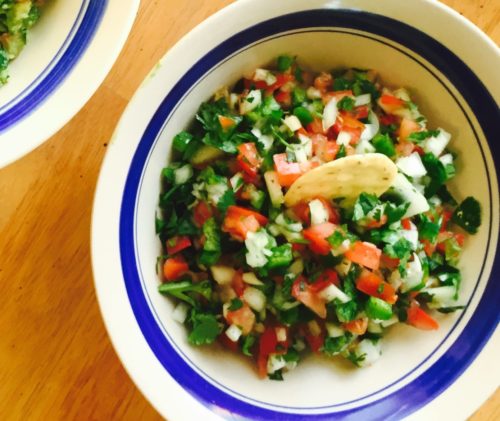 Comments : 5 Posted in :
Appetizers
,
Gluten Free
on
by :
poppop
Core and seed the tomatoes and chop them up.
Cut the jalapeños in half lengthwise, chop off the stem end and scrape the seeds out then chop them up. Chop up the onion.
Leave the rubber bands on the bunch of cilantro and kinda shave the leaves off the stems. Don't worry if there are a few stems in with the leaves, just chop them up too.
Squeeze in the lime juice, sprinkle a little salt and pepper. Mix them all together and you have just made Pico de Gallo!
If you stop right here you have some real good dip to go on a chip, just like Poppop is  enjoying in the pic. Hey, I'm a poet!
But now you can go a step further and make some guacamole.

Print Recipe
Pico de Gallo
Yum
Pico de Galo is an easy to make dip that goes great with chips and a little beer, or tequila.
Core and seed the tomatoes and chop them up. Chop the stem end off the jalapeños, cut them in half lengthwise and scrape the seeds out then chop them up. Chop up the onion.

Squeeze in the lime juice, sprinkle a little salt and pepper. Mix them all together and you have just made Pico de Gallo! If you stop right here you have some real good dip to go on a chip, just like Poppop is enjoying in the pic. Hey, I'm a poet! But now you can go a step further and make some guacamole
5s COMMENTS