1 June, 2015
Bruschetta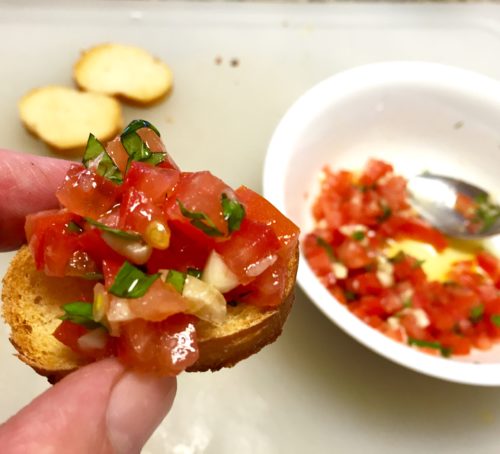 Posted in :
Appetizers
on
by :
poppop
Bruschetta is basically slices of bread that have been toasted and rubbed with raw garlic then very lightly drizzled with olive oil.  You could stop right there and have a real good  and basic garlic bread. Here is a link to our amped up version of garlic bread. Then comes the many toppings. The most common being chopped tomatoes. There was a real good Italian restaurant in manhatten on Mulberry St. in Little Italy that did it like this and it's still our favorite. Although we have been guilty of trying a few variations over the years.
Toasted slices of  bread, Real good extra virgin olive oil, chopped fresh basil leaves (dried will work), good Roma tomatoes cored seeded and chopped, chopped fresh garlic and salt.
Do your chopping and mix everything but the bread together. Put some of the topping on a slice of the toast and enjoy!
Print Recipe
Bruschetta
Yum
This bruschetta is basically garlic bread topped with chopped tomatoes. We are pretty sure, no, quite positive that you will enjoy this variation.
Slice the bread and spread the slices on a cookie sheet. toast them in an oven set at 400 degrees. Or, use a toaster oven set for toast. Remove them when they just start to get brown around the edges.