31 October, 2017
Minestrone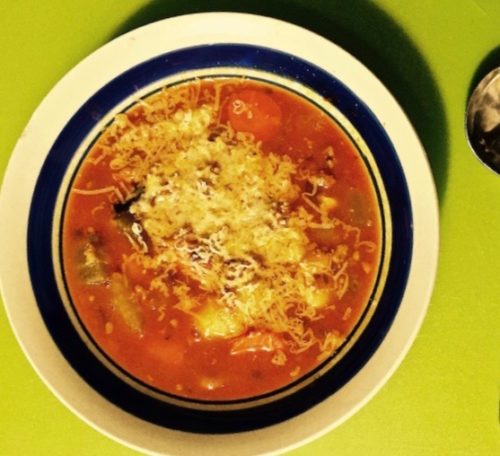 Posted in :
Main Course
,
Recipes
,
Soups
on
by :
poppop
Minestrone-I'll bet-has been made nearly as many different ways as there are people who have made it. If you google it you will be blown away and confused by the tons of different recipes for this old time Italian classic. It's origins date back to centuries BC when the poor would gather whatever vegetables they could and boil them in water to make a soup. Centuries later animal broth, mostly beef or chicken started to be used. Then in the 16th century when potatoes and tomatoes were introduced from the western world they too became a staple to Minestrone.
Out of all the ways to make it this is the one we have settled on. We really like it and I'll bet you will too.
it's a great comfort supper on a cold night, you can make a big batch and freeze a bunch of zip lock portions to be available for a weeknight nuke it no brainer, it's easy and its real good.
Minestrone
Author:
Prep time:
Cook time:
Total time:
[b]A real good and real easy classic Italian soup.[/b]
Ingredients
[b]2 tbsp. olive oil
2 large stalks of celery coarsely chopped
1 medium sized onion coarsely chopped
2 carrots sliced in about 3/8″ slices. Just eyeball it. Or, if you prefer those little cleaned and peeled ones just cut up 6-8 of them into 3 pieces each.
6 large cloves garlic coarsely chopped.
4-5 links Italian sausage (hot or mild it's up to you) with the skin removed.
1 tsp. salt
1/2 tsp. black pepper
1/2 tsp. red pepper flakes (optional)
1 qt. low sodium chicken broth
1 qt. water
1 28 oz. can good quality Italian Roma tomatoes, crushed.
1 28 oz. can cannelloni beans, drained and rinsed
1 large potato cleaned and cut into 1/2″ size cubes or 1 17 oz. pkg of potato Gnocchi or 1 lb. box of rigatoni or penne or ziti
2 bay leaves
1/2 teaspoon dried sage or 6 leaves of fresh
1/2 cup parmesan cheese cut into small chunks.
1/2 cup grated Parmesan cheese. plus some for garnish.
1 cup chopped fresh parsley leaves or 1/2 cup dried[/b]
Instructions
[b]Put a 6-8 qt. stock pot on at medium high and add the olive oil
Coarsely chop up the celery, garlic and onion. and cut up the carrots.
Put the veggies in the pot, add the seasonings and stir it all together.
Remove the skins from the sausage, add it to the pot and break it up.
[img src="http://poppopcooks.com/wp-content/uploads/2015/12/Minestroni4.jpg" width="550″ height="550″ class="aligncenter size-full" title="Minestroni4″ alt="Minestroni4 poppopcooks.com"]
Stir often and when the sausage has all turned brown add the chicken broth, water, tomatoes, the cannelloni beans and the parmesan cheese.
Mix it all together and bring it up to a simmer then reduce the heat low enough to maintain the simmer.
[img src="http://poppopcooks.com/wp-content/uploads/2015/12/Minestroni8.jpg" width="746″ height="550″ class="aligncenter size-full" title="Minestroni8″ alt="Minestroni8 poppopcooks.com"]
Add the potatoes if you're using them instead of the pasta or gnocchi
Stir it regularly as it cooks for 30 minutes. (or more if you have the time)
About 8 minutes before serving add the pasta or about 5 for the gnocchi.
A couple of minutes before serving add the parsley.
[img src="http://poppopcooks.com/wp-content/uploads/2015/12/Minestroni.jpg" width="557″ height="508″ class="aligncenter size-full" title="Minestroni" alt="Minestroni"]
Serve it up! Garnish with some grated parmesan. Bon Appetit! Some chianti and some of [url href="http://poppopcooks.com/recipe/poppops-eeeeasy-homemade-bread/"]Poppop's homemade bread[/url] to dip would go great.[/b]
Originally posted 2015-12-10 15:51:30.