29 October, 2017
Caprese salad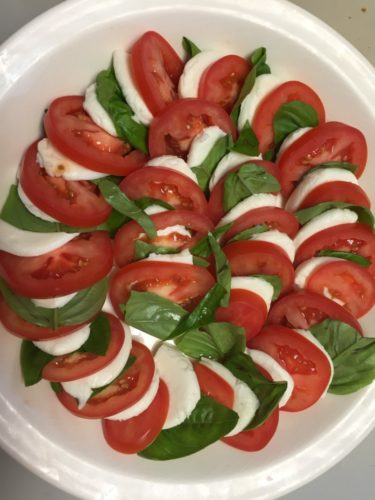 Posted in :
Salads
on
by :
poppop
Tags:
02210
If you don't already know about and like Caprese Salad your missing something nice and it will always go over real good  with your guests.
 Wikipedia says
"Caprese salad (Italian: Insalata Caprese, meaning "Salad of Capri")[1] is a simple Italian salad, made of sliced fresh mozzarella, tomatoes and basil, seasoned with salt and  olive oil. It was made to resemble the colors of the Italian flag: red, white, and green. In Italy, it is usually served as an antipasto (starter), not a contorno (side dish) unlike most salads."
Here in the states I've never seen it without balsamic vinegar drizzled on it after the olive oil. Some prefer  reduced balsamic vinegar. That's real good too. You just simmer it in a sauce pan for about for about 10 or 15 minutes 'til it's thickened up a little. Let it cool and drizzle it on the salad instead of the fresh out of the bottle stuff.
Just lay out the mozzarella, tomatoes and basil leaves in layers. Gammy always has basil growing in a pot out on the deck or inside on a windowsill in the colder months. If there isn't any fresh basil leaves available just use the dry stuff and sprinkle it on after everything else. Sometimes I stray from the straight and narrow (would you believe it?) and instead of basil I smear some pesto all over it. A good recipe for pesto is at the end of this post.
The quality and the degree of ripeness of the tomatoes is real important. We use Roma tomatoes that aren't too firm and not beginning to get too soft. No green around the stem spot and no hickeys on the skin. Some cooks slice the stem end off, cut the tomatoes in half lengthwise and core out the insides for their version.
There are lots of different ways to go with this simple but real good and basic salad. Sometimes we put slices of avocado in with the cheese, tomatoes, and basil. Boy, that's good. You're the chef so let your adventurous side out and tweak it the way you want!
Originally posted 2015-04-01 19:44:09.